​
Mystery Shop

The Mystery Shop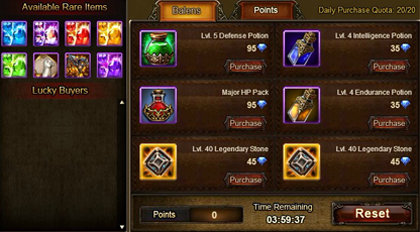 1. You may purchase rare items here.
2. Items in the Mystery Shop reset automatically every four hours or can be reset manually using Balens.
3. Every time you purchase an item in the Market Shop using Balens or reset the Market Shop inventory, you will receive points. These points may then be exchanged for various items in the Market Shop.
4. You may purchase up to 80 separate items from the Mystery Shop per day. Purchase counter resets daily at 5 AM.
Log in now to enhance and personalize your experience!