Christmas Gifts Galore!
​Duration: 12/25-12/27 11:59 PM Server Time
Servers: All Servers
Description: We have prepared a variety of Christmas gifts just for you! During the following hours, players may redeem the following rewards (each reward may be redeemed once per day):
10:00 - 11:00: Rose x 1, VIP Tokens x 10 and 2 Hours VIP Card x 1
15:00 - 16:00: Lvl. 2 Bonus EXP Scroll x 1 and Moderate Stamina Potion x 1
20:00 - 21:00: Lvl. 3-5 Rune Pack x 10, [L3] Superior Gold Seed x 1 and [L3] Superior Daru Seed x 1


Note
: These rewards may be redeemed by clicking the Event Prizes button.

Or you can find the button here: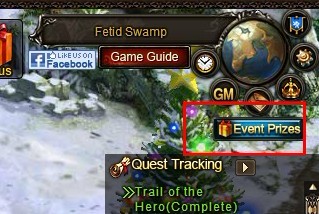 Log in now to enhance and personalize your experience!