Don't Let Your VIP Benefits Run Out. Re-Subscribe Now.
​Don't
Let Your VIP Benefits Run Out. Re-Subscribe Now.
R2 is currently in the process of fine-tuning its payment systems. As part of this process, all users who signed up for monthly VIP benefits before April 10th will need to re-subscribe. In June all VIP accounts created before April 10th will naturally expire (see below for when), and no further automatic charges will be taken from players. To regain access to VIP privileges and bonuses, players will have to login to R2 and re-subscribe.
My VIP Benefits Already Ran Out! What Do I Do?
If your VIP benefits have already ran out, re-subscribe now by going to R2's store http://store.r2games.com/ and clicking on the VIP tab. You can also re-subscribe by clicking on the VIP button in game (see below).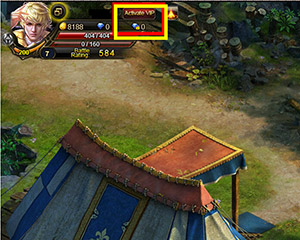 The Good News
Because of this inconvenience, we are rewarding ALL June VIP users -this includes users who registered for VIP privileges after April 10th as well as users who re-subscribed for VIP privileges in June- a special gift pack (specifically chosen to benefit VIPs).
The gift pack will be sent within the first ten working days in July, and will be sent to players via in-game mail.
Read on to find out what's inside!
When Will My VIP Account Expire in June?
You can check to see how many days of VIP privileges you have by clicking on "VIP" and then checking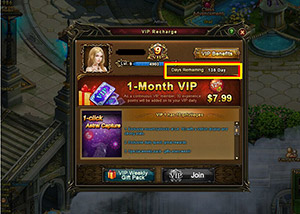 If You Registered For VIP Benefits After April 10th
Your VIP accounts will be unaffected, and you do not need to re-subscribe. You will receive the special gift pack.
If You Are Registering For VIP Benefits For the First Time
Good timing! You will receive the special gift pack.
Wartune Gift Pack Details
50 - Discount Coupon x 1

200 - Discount Coupon x 1

VIP Token x 100

Spirit Covenant Card (7 days) x 1

Sylph Sepulcrum x 50

Mahra x 50
Log in now to enhance and personalize your experience!